Boston Art Review
Boston Art Review (BAR) is an independent community-based publication committed to facilitating active discourse around contemporary art in Boston and beyond. Boston Art Review's engagement in the community fosters inter-institutional collaboration. BAR is proud to showcase writing, art, and perspectives from underrepresented individuals ranging from artists, scholars, students, curators, and the community at large alongside more recognized artists, all existing under the central idea of contemporary art. Julianna Sy serves as the Creative Director and lead designer of BAR Magazine's print publications and social media platforms.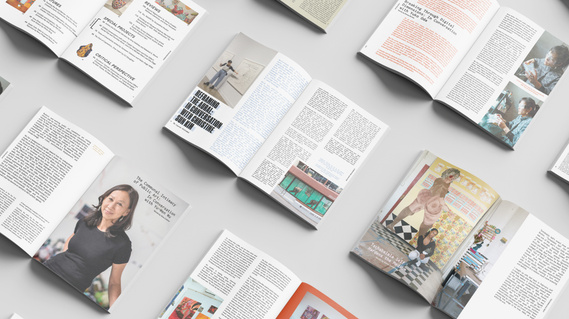 BAR Magazine Issue 05: No Boundaries
Issue 05 of BAR Magazine features the work of artists, writers, curators, and collectives who have long been advocating for a new normal. We hear from Mar Parrilla, whose dance company Danza Orgánica fights for social justice with a decolonizing praxis. We see the work of Imaginary Collective, whose underground exhibitions envision an art world free from capitalist interests. And we learn from Yu-Wen Wu, whose bundles represent the trauma, stories, and objects that fall in the wake of migration. Their voices, among many others, spotlight the crucial role that art and discourse play in disrupting long-standing systems of inequality.
This issue is available for purchase here. 15% of Issue 05 sales will be given to local Black-led organizations who are actively doing on-the-ground anti-racist work in three different sectors of our community: Violence in Boston, Black and Pink Boston, Families for Justice as Healing, and Boston Ujima Project.
The Cost of Capitalism Zine
A special feature of this issue is a fold-out poster and zine created by Boston-based photographer, OJ Slaughter who has been tirelessly working to document the Black Lives Matter protests and community vigils. Boston Art Review is proud to stand with those resisting the oppression of POC communities in the US stemming from systemic racism. BLACK LIVES MATTER
BAR Magazine Issue 04: The Public Art Issue
The Public Art Issue seeks to examine the ever-evolving factors at play when access, sites, and engagement shape the development of art and artists in the public sphere. As the roles of audience and activism shift in response to tension between bureaucracy and community, this issue provides room for reflective and forward-thinking discourse on the matter. BAR considers the language surrounding public art as the rise of new digital and physical platforms expand our definitions of public space. The issue is available for purchase here.
BAR Magazine Issue 03: Tracing Movement
Excerpt, Editor's Letter, Jameson Johnson
We seek to examine the role contemporary art and artists play in shaping how we move through cultural, societal, ecological, and personal shifts. We invited writers and artists to join us as we explored the space between motion and change. As a result, this issue reflects our changing social and political climate and facilitates discourse surrounding both global and local phenomena, from immigration and ancestry to activism and community organizing. From Liz Morlock's poignant evaluation of an art scene fraught with a perceived revolving-door syndrome to Betsy Willett's careful cataloging of gestures within museum walls, "Tracing Movement" provides a lens through which the physical, social, and conceptual impact of movement can be viewed.
Issue 03 is available for purchase here.
→ photo via Le Corbusier's Carpenter Center for the Visual Arts at Harvard University
sample spreads from issue 03
i. editorial / print design
editorial / print design // recent projects